With a Passion for Beauty and Aesthetics
And the Latest Technology and Procedures
We're Here for You Through Your Beauty Journey
Amason Aesthetics in St. Johns, FL, offers a wide range of services designed to rejuvenate, enhance, and repair the skin. Our injectors are highly skilled and utilize the highest quality products offered in aesthetics. We offer wrinkle relaxers, dermal fillers, hydrafacials, and more. Our goal is to enhance your natural beauty and give you the tools to have a lifetime of vibrant skin.
Wrinkle Relaxers
Wrinkle Relaxers are commonly used cosmetic injections that will soften wrinkles, while allowing the muscles to relax. This treatment helps helps to prevent fine lines around the eyes, mouth and forehead.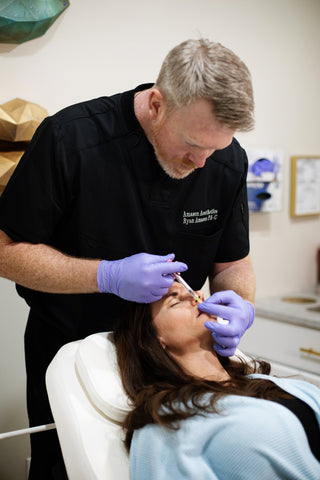 Dermal Fillers
Dermal Fillers are injectable gel-like substances used to diminish facial lines, restore volume and fullness in the face, and enhance facial contours.
Semaglutide
Introducing Semaglutide, an injectable designed to support long-term weight loss. With just one weekly administration, this innovative treatment provides an effective solution for individuals seeking sustainable weight management.
Morpheus8 - RF Microneedling 
This powerful treatment system combines microneedling and radiofrequency to noticeably improve the skin's appearance through enhanced collagen production. Morpheus8 can smooth skin, even out areas of hyperpigmentation, fill in lines and facial folds, and tighten loose skin. It also reduces the appearance of scars and stretch marks.
Morpheus8 Body
Morpheus8 Body is the first FDA-approved technology to provide deep subdermal adipose tissue remodeling. This technology allows fat reduction, skin remodeling (stretch marks, scaring), and resurfacing on larger body areas like the abdomen and thighs.
Lumecca IPL Laser
Lumecca is the most powerful IPL (Intense Pulsed Light) which is used to target pigmented brown and red spots and treat vascular skin lesions. The skin is left smooth, the texture is evened out, acne is reduced and rosacea and other irregularities are resolved. 
Laser Hair Removal
Diolaze is an advanced laser hair removal procedure that safely and gently eliminates unwanted hair. Diolaze has one of the largest treatment spot sizes, making treatments convenient and fast. The combination of efficacy, patient comfort, and speed makes Diolaze the leader in laser hair removal.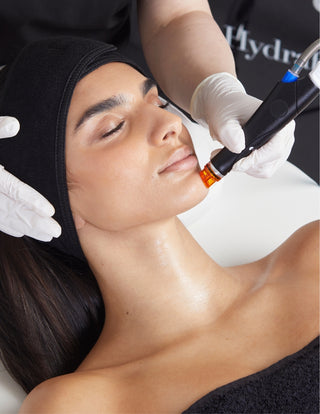 HydraFacial
This procedure combines cleansing, exfoliation, extraction, hydration, and antioxidant protection that removes dead skin cells and impurities, while simultaneously delivering moisturizing serums into the skin.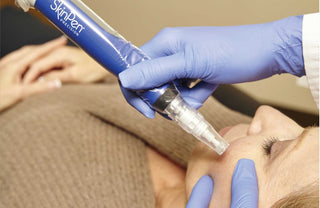 Microneedling
The Skinpen microneedling device causes controlled micro-injuries that stimulate the body's natural wound-healing process. The micro-injuries trigger the release of cytokines and growth factors that lead to the remodeling of collagen and elastin.Reduces the signs of aging; improves skin texture, fine lines, and wrinkles.
Hair Restoration
Hair restoration services offer a rejuvenating solution for those experiencing hair loss or thinning hair.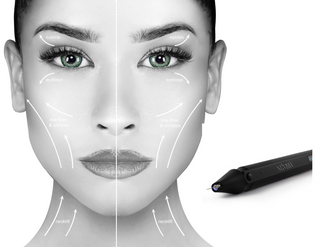 Nuvissa Plasma Pen
NuVissa is a lightweight hand-held Plasma device that delivers controlled energy to safely create multiple thermal injuries to the epidermis. These thermal injuries stimulate fibroblast and new collagen formation which results in a tightening of the skin and tissue.
AQUAGOLD
Aquagold uses gold-plated, stainless steel needles that are used to stimulate natural collagen production from your skin. They create microchannels that allow dermal fillers, wrinkle relaxers, and nutrients to better distribute.
EvolveX Body Contouring
EvolveX is a hands-free, non-invasive total body transforming treatment to remodel skin, treat fat, and tone muscles.
Lipotropic Booster (B12-Lipo mic)
The primary benefit of lipotropic injections is that they can help further aid weight loss when combined with healthy dieting and regular exercise. The vitamins and nutrients found in lipotropic injections can help boost metabolism and reduce the amounts of fat and cholesterol stored in the body.

Kybella
Kybella destroys fat cells. Kybella removes the fat cells found under the chin. If you suffer from a double chin, we would recommend a Kybella treatment. It is very effective and produces long-lasting results.